Mending Your Clothes is a Great Way to be Sustainable
We all do it. You find a hole in a piece of clothing and it's unwearbale and must be thrown away.
But what if we shifted our thinking? What if our first thought was, can I fix it? Our grandparents certainly used to mend their clothes so why can't we!
So I pulled out one of my favorite jackets I had in my box of hole-y clothes to send to our recycler. Why not give mending a shot? 
1) I've got nothing to lose, and 2) if it works I get one of my favorite casual jackets back. :)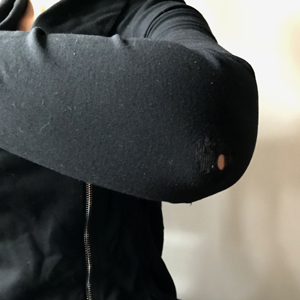 So I watched a total of one youtube video and set off on my mending adventure!
I grabbed my jacket and a hole-y gray t-shirt for the patching material, found my needles and thread (aka the mending kit I bought in college) and jumped in.
What if I sock it up? I wasn't too worried, worst that could happen is I cut all the thread and I'm back to where I started, a hole-y elbow.
The hole is pretty small and the other elbow is fine, so I decided to patch from the inside. But since it's a casual jacket and I wanted to have some fun with it, I used a contrasting thread.
Let's run through my basic steps:
1. Found the hole.
2. Used paper to cut a template for how much fabric I needed to cover it.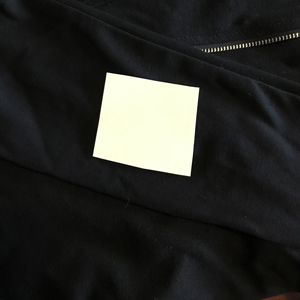 3. Used the template to cut the fabric.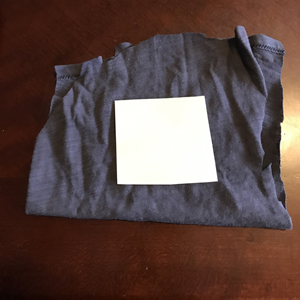 4. Pinned the fabric in place on the inside of the sleeve, ensuring the hole was fully covered. I had to use extra sewing needles because I don't have straight pins. :)
5. Used a whip stitch to sew the patch on. I'm not 100% sure it's a whip stitch but it worked.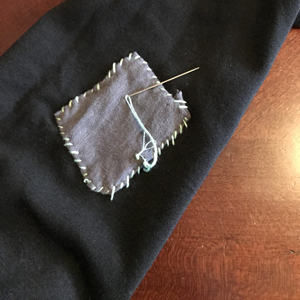 6. Turned the sleeve right side out. Boom! Hole is covered.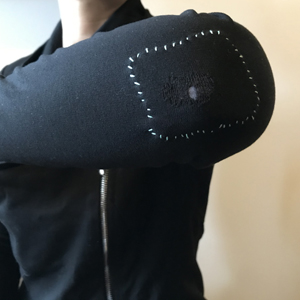 I could have used black fabric and thread and it would have been nearly impossible to see the stitching but I recently read about visible mending and liked the idea of adding a little something to my jacket.
I like it, and I love that I have my jacket back. It's great for lounging at home or with a pair of jeans for a casual night out.
I also love that I put something back in my closet. Recycling is great but if we can all keep clothing longer and buy less, that's even better. Consuming less, lessens the burden on our environment not only from the physical waste of that item, but also by lessening the impact of making more clothing. (Steps off soapbox) :)
Have you ever mended clothing before? Got some tips for us? Share them on our Facebook page or email us and we'll blast it out to our community. 
Cheers!
Andrea