We talked about fast fashion a few weeks ago, so we're excited to share a guest post from Bergen Anderson of Lilla Barn this week about slow fashion.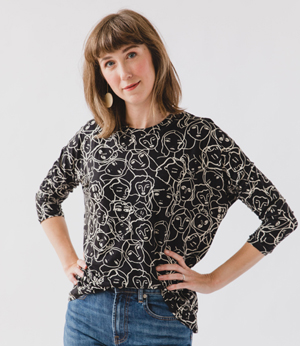 But first a little about Bergen. She is Lilla Barn's founder and main clothesmaker, and is a color equity ambassador. In other words, all colors are for all people. This colorful mission began when Bergen was pregnant with her first child. She couldn't find the baby clothes she wanted for her daughter that weren't stereotypical colors, so as a lifelong maker, she decided to sew some herself. Then she just kept on sewing.
Bergen is also passionate about living more lightly on our planet and has made sustainability part of her business too. And now here is Bergen on slow fashion.
What is slow fashion?
The phrase "slow fashion" is new to many people even though slow fashion has been around forever. It's "slow" because each part of the process is intentional. More time is put into each design and garment on the production side. Also, by slowing down our own purchasing process, slow fashion forces us to think about the impact of our choices in the fashion industry and how they affect our planet and its people.
To me, the slow fashion process is thoughtful from start to finish: from design to production and eventually to the consumer's purchase process. It's a cycle that you can be part of.
There are many benefits to slow fashion including clothes that last for years, transparency in production, and less waste in landfills. Not sure what you can do? Where to get started? Here are a few tips to get the ball rolling. Trust me, it's easy.
Garments made by hand or by ethical companies and designers cost more for the consumer. I don't have to tell you at this point that it's worth it, right? Obviously, it's not practical for you to go out and buy all new garments -- that would also produce a lot of waste. But, it's not hard to make small adjustments in your life to make a big difference.
Care for your current garments
Wash everything in cold water (except undies and dish towels). Air dry. Hanging clothes in the sun is great for whites laundry.
Holes? Small fixes? Mend 'em up or find someone who can. There are some really cool mending techniques that can add visual texture to your clothes.
Give
your clothes a second life
Consign or sell. Join the Buy/Sell/Trade sites on Facebook. Still have an eBay account? Try Poshmark. Selling or consigning clothes you don't wear anymore is a great way fund your next purchases.
Donate. I like to donate to The Brown Elephant in Chicago, but there are plenty of places that will take clothing that's in good shape.
Pass them on. Have kids' clothes? Hand them down to another family or friend. Save them for a future baby.
Shop vintage, consignment, and second-hand. Trade with friends. Attend clothing swaps.

Buy from the maker. You'll be able to hear the maker's story first hand. This is great for gift-giving or to introduce someone to slow fashion and the maker movement.